Posts for: February, 2018
By Charles A. Ross DMD, PC
February 16, 2018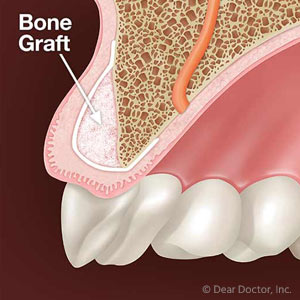 Due to financial circumstances, people often have a lost tooth restored with a removable partial denture, an effective appliance that restores function and a degree of aesthetic appearance. Later, though, they may want to improve both function and appearance with a dental implant.
If this describes you, you're making a great choice. Dental implants are the closest technology we have to a natural tooth. But there may be a roadblock to your implant, especially if a long time has passed since your tooth loss—there may not be enough bone at the site to place an implant.
The heart of an implant is a titanium metal post surgically imbedded in the jawbone. The titanium naturally attracts bone cells, which grow and adhere to it to form a solid hold that can support a porcelain crown or other restorations like bridges or dentures. But to achieve a natural appearance it's important that the implant is placed in the right location. To achieve that requires adequate bone.
But there may not be adequate bone if the tooth has been missing for a while. The forces generated when we chew travel through the teeth to the jawbone, which stimulates bone growth. If that stimulus is absent because of a missing tooth, new bone cells may not replace older ones at a healthy rate and the total bone volume begins to diminish. A denture can't compensate and, in fact, accelerates bone loss.
But there may be a solution: bone grafting. With this procedure we place a donor bone graft into the area of bone deficiency some time before implant surgery. The graft serves as a scaffold for new bone cells to grow upon. Hopefully, this will produce enough healthy bone to support an implant. If the bone deficiency is minor, we may place the implant and the bone graft at the same time.
If you have experienced bone loss, we must first determine the amount of bone at the missing tooth site and whether grafting is a viable option. Bone grafting postpones your implant, but the delay will be worth the wait if we're successful. With increased bone volume you'll be able to obtain a new tooth that's superior to your current restoration.
If you would like more information on dental implants, please contact us or schedule an appointment for a consultation.
By Charles A. Ross DMD, PC
February 01, 2018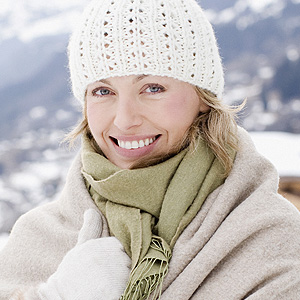 Winter is the time for snowy landscapes, hot cocoa and flannel PJs, but for some 'tis the season for tooth trouble. What can you do to keep your teeth from becoming a pain this winter?
Tackle tooth sensitivity. Does crisp winter air on your teeth give you a jolt? A study published in the Journal of the American Dental Association found that 1 in 8 people (over 12%) suffer from tooth sensitivity, particularly to cold. Sensitivity can result from receding gums, erosion of tooth enamel, tooth decay or other dental problems. If you experience tooth sensitivity, use toothpaste that is specially formulated for sensitive teeth and breathe through your nose to protect your teeth from extreme cold. Most importantly, schedule a dental exam to determine why your teeth are sensitive.
Stay hydrated. In winter, we spend more time with the heat on and we tend to drink less water. A dry mouth can result, which can lead to bad breath, tooth decay and gum disease. Staying well hydrated keeps your gums and teeth moist and helps you produce more saliva, which is key to good oral health and fresh breath. Saliva helps wash away food debris and bacteria, neutralize decay-causing acid and repair weakened tooth enamel. For healthy teeth and gums, be sure to drink plenty of water this winter.
Safeguard your teeth on the slopes. Are you planning to hit the slopes this winter? Be sure to wear a mouthguard to help protect against injury. Beginning skiers and snowboarders are more likely to suffer falls that could result in dental injuries, while experts may fly over bumps and jumps, causing the upper and lower teeth to knock together with force. Even backyard sledders are at risk of dental injury. Mouthguards help protect against chipped, broken, or knocked-out teeth as well as soft tissue damage. So before you enjoy wintertime sports, make sure your teeth are protected. For the best fit and comfort, ask us about a custom mouthguard.
If you have questions about these or other dental issues, please contact us or schedule a consultation. You can learn more in the Dear Doctor magazine articles "Treatment of Tooth Sensitivity" and "Dry Mouth."